About Us
Lead by Jamie and Joshua, licensed coaches, with over 10 years coaching experience between us.
We share our love and passion for football with all children who work with our team.
Promoting football development in a fun environment!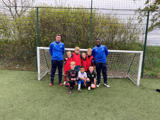 Ages 2 to 3
1st Touches
This class introduces football to toddlers through imaginative play - exploring exciting and relatable themes like Paw Patrol, Jungle Animals and Superheroes. 
Our curriculum encourages the development of key motor skills and early cognitive functions, whilst building core football skills.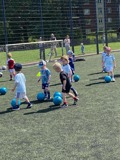 Ages 3 to 4
Tiny Touches
For our pre-school kids this class lets their imagination run free. We use their favourite themes to create a footballing adventure such as Toy Story, Pirates and Race Cars.
Our curriculum incorporates balance, co-ordination and physical development. We challenge the children with tasks involving numbers and phonetics. 
We introduce small 1v1 football activities, progressing into collaborating with other players in team games.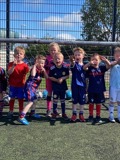 Soccer School
The 1st Touch Soccer School is an exciting class which builds players' fundamental skills in an fun environment.
Players will learn through skills-based activities, game related practices and small sided games. Players of all abilities will find confidence and develop their footballing personality.